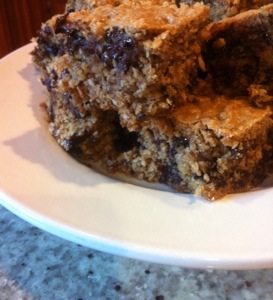 My favorite lactation cookie recipe came from a blog that is no longer online. Since I was always making my own tweaks I'm posting my own recipe. When it comes down to it, it's a rev'ed up oatmeal chocolate chip cookie. The recipe is based on ingredients that have some known lactogenic properties. Lactogenic means that it may help increase milk. I make no claims that these cookies will boost your breastmilk supply. If you are having breastfeeding problems please seek the help of a local breastfeeding professional. This is also not a diet food. They are cookies, 'nuff said. If you'd like to share this recipe please link back to this post.
A Momma's Treat
Use organic ingredients when possible.
4 tablespoons Water
2 tablespoons Ground Flaxseed Meal – do not substitute
1 cup Unsalted Butter or 1/2 cup Unsalted Butter & 1/2 cup Coconut Oil**
1 cup Sugar
1 cup Brown Sugar
2 large Eggs
1 1/2 teaspoons Vanilla
2 cups Unbleached Flour
1 teaspoon Baking Soda (aluminum free if possible)
1 teaspoon Sea Salt, Pink Himalayan Salt is best
2 tablespoons Brewer's Yeast – do not substitute ***
2 tablespoons Nutritional Yeast (optional) ***
2 tablespoons Hemp Seeds (optional)
3 cups Oatmeal (Steel Cut not recommended, but any other variety works well, the less processed the better)
1 package Dark Chocolate Chips
Additional add-ins:
1/2 cup dried fruit (I love cherries or cranberries) or
1/2 cup chopped nuts or
1/2 cup toffee chips
Preheat oven to 350 degrees
In a small bowl, mix flax seed meal & water, set aside. Flax will absorb the water & look a bit fluffy. About 3-5 minutes.
In a large bowl sift all dry ingredients together except oatmeal & chocolate chips. Set aside.
Cream butter (or butter and coconut oil) , sugar and brown sugar with a mixer until light & fluffy.
Add eggs one at a time & beat well after each addition. Scraping down sides of bowl as necessary.
Add flax seed/water mix. Beat well.
Add vanilla. Scrape sides of bowl.
Slowly add dry ingredients to butter mixture a little at a time.
Add in oatmeal, then chocolate chips & any other additions.
Drop teaspoon sized amounts onto a parchment lined or silicone lined baking sheet. Bake for 12-15 minutes. You can make them bigger but be sure to increase baking time.
Yields about 4 dozen cookies
If making bars increase baking time to 25-30 minutes. Bars are finished when a toothpick inserted into the center comes out clean.
**if using coconut oil spread the batter into an 11×13 pan for bars. The finished product will be too soft to stay in a cookie form for very long especially if freezing the finished product or transporting.
***Nutritional Yeast, Brewer's Yeast & Baking Yeast are 3 different things. They are not interchangeable.